The delicious gourmet nut and dried fruit treats offered at L'Orenta Nuts bring sweet pleasures whenever and wherever they are eaten. Who doesn't enjoy the rich distinctive taste of lightly roasted almonds?  Enjoy the sweet-tart flavor of plump and moist golden raisins, or the  chewy sweet goodness of plump jumbo medjool dates? Here are some products that give the gift of heart health. 
The wonderful thing about these dried fruit and nut treats is that they not only taste great, but promote cardiovascular health as well.
The heart healthy benefits of roasted salted almonds 
Almonds, like many other nuts, are indeed high in fat content, and for many years, were considered a "no-no" for weight conscious diet strategies. However, this fat is healthy monounsaturated fat, which has been proven to have a positive impact on heart health. 
These fats are good for your heart because they can lower your bad (LDL) cholesterol and raise your good (HDL)  cholesterol. In fact, almonds themselves contain no cholesterol. So if you're trying to manage your cholesterol, almonds are a good snack choice. 
Related to this are recent studies suggesting that almonds also increase vitamin E levels in the plasma and red blood cells. Vitamin E is an antioxidant that can help stop the oxidation process that causes cholesterol to clog the arteries.
Almonds also significantly increase the levels of antioxidants in the bloodstream, lowering blood pressure, and improving blood flow. Researchers believe this may be due to vitamin E, the monounsaturated  fats, and fiber, as well as the antioxidant impact of flavonoids. High blood pressure increases the risk of heart disease; almonds lower it..
Recommendation to protect heart health
Consume about 1.5 ounces  (45 grams) of almonds daily.   
For more information on how you can give the gift of heart health; contact L'Orenta Nuts.
L'Orenta roasted almonds are sprinkled with just the right amount of salt. These will absolutely delight your taste buds.
The heart healthy benefits of Chandler Walnuts
Walnuts, like almonds, also promote cardiovascular health. Walnuts are also rich in healthy polyunsaturated fats.    Recent studies showed that those consuming a walnut-rich diet had lower total cholesterol, lower LDL cholesterol; lower triglycerides,  and  lower apoprotein B (a protein linked to cardiovascular disease). 
Walnuts also contain specific oils that enhance cardiovascular health,  as well as alpha-linolenic and linoleic acids, which may have anti-inflammatory properties  that keep blood vessels healthy.  
A recent study conducted by  Dr. Emilio Ros from the Hospital Clinic of Barcelona in conjunction with Loma Linda University,  showed that in older adults adding walnuts to their diet  reduced the inflammatory response by 11.5%.   These findings suggest that walnuts can thus reduce the risk of heart disease, since chronic inflammation is a critical factor for the development of atherosclerosis ("hardening of the arteries"), the main cause of heart attacks and strokes. 
If walnuts are on your list for a heart healthy gift, L'Orenta Nuts has wonderful chandler walnut halves and pieces for a healthy crunch that will never let you down.
The heart healthy benefits of Medjool Dates
Sweet and delicious heart healthy snacks include dried fruit as well as nuts  
The antioxidant properties of dates improve heart health by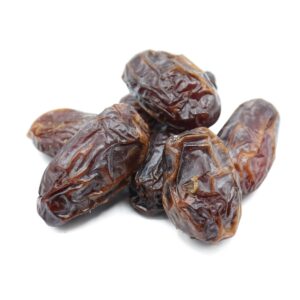 lowering levels of bad (LDL) cholesterol as well as decreasing the risk of atherosclerosis ("hardening of the arteries:)
Dates also contain a fair amount of fiber which is also  associated with lower blood cholesterol levels, as well as decreased triglyceride levels, , meaning that less fat is carried around the body; correlated with reduced cardiovascular problems..
There are additional heart healthy nutrients in dates including vitamin B6, which removes the homocysteine from the blood. 
The American Heart Association recommends moderate consumption of dates twice a week to improve cardiovascular health.
If you would like a heart healthy date, try L'Orenta Medjool Dates!  These medjool dates are jumbo in size and flavor!  With no added sugars these dates make a healthy snack
The heart health benefits of Golden Raisins
Raisins are a very versatile food, eaten as a popular snack by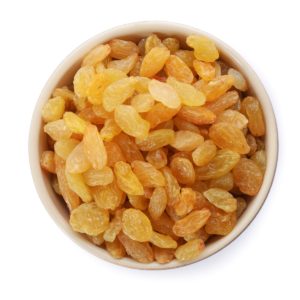 themselves or as part of baked goods such as cakes and muffins; and as part of savory meat dishes such as minced meat. They are also wonderful additions to cereals,  salads and trail mix.
Raisins contain many nutrients that benefit overall heart health including polyphenols, antioxidants and flavonoids as well as significant levels of potassium, fiber, and iron; and they are  free of saturated fat and cholesterol.
Raisins contain higher levels of potassium, an important factor for maintaining heart health. 
There is a positive correlation between the consumption of raisins and a reduction in hypertension. Potassium levels found in raisins help to lower the tension of blood vessels. This helps in lower high blood pressure. 
Dietary fiber affects the biochemistry of blood vessels, lowers its stiffness and also reduces the chances of hypertension. When raisins are a regular part of the daily diet, they contribute to lower blood pressure.
In the mood for a sweet chewy heart healthy snack? Visit L'Orenta Nuts to order plump juicy golden raisins
The heart health benefits of L'Orenta's Simply Keto Mix
This is a mix of whole natural almonds, chandler walnut halves and pieces, and macadamia nuts.  Aside from their great taste, these nuts are a great source of antioxidants which can help to fight inflammation and heart disease, making this snack the ultimate treat for your body.
Earlier, we discussed the cardiovascular benefits of almonds and walnuts, but this wonderful snack also contains macadamia nuts; another source of heart healthy nutrients.
Like the other nut foods,  macadamia nuts are rich in antioxidants, vitamins, minerals, and fiber; and they also contain healthy monounsaturated fats. This fat is consistently linked to better heart health and a lower risk of stroke and fatal heart attacks 
Macadamia nuts may lower your risk of heart disease
Macadamia nuts boast high levels of flavonoid. This antioxidant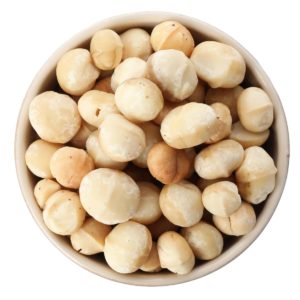 fights inflammation and helps lower cholesterol levels. Furthermore, macadamia nuts are also rich in tocotrienols, a form of vitamin E, with antioxidant properties that may help lower cholesterol levels as well.
Various studies indicate that up to 10% lower total and LDL cholesterol levels can be achieved. Simply by eating 0.3–1.5 ounces of macadamia nuts daily. What's more, eating this same amount daily may also significantly reduce markers for inflammation, such as leukotriene B4. Inflammation is a risk factor for heart disease 
L'Orenta Nuts is a great place to sample this wonderful heart healthy house mix for those on keto diets, or those who just want to try something new and delicious. This mix of  body-fueling walnuts with macadamia nuts and unsalted almonds provides you with a simple yet wholesome gourmet snack to enjoy with guests, or on-the-go.