Celebrate Watermelon Day | L'Orenta Nuts
The third of August is Watermelon Day- a day that honors a refreshing summertime delicacy of picnics and fairs. Celebrate Watermelon Day with L'Orenta's delicious delights. Enjoy chewy and adorable slices with our gummy watermelon slices.  Read on to learn more about the celebration of Watermelon Day, along with the history.
History 
It is very refreshing in the summer heat since it contains 92 percent water. This floral vine is native to southern Africa. Botanists use the term watermelon to refer to both the fruit and the plant. Although the plant is known as a pepo, the pepo fruit has a thick exterior and a fleshy core. Pepos arise from the inferior ovary. They're also members of the Cucurbitaceae family, which includes gourds. This fruit is informally classified as a melon. It does not belong to the genus Cucumis, unlike other melons. The smooth exterior produces a dark green rind with stripes or yellow dots. They have a sweet, juicy inner flesh that varies in color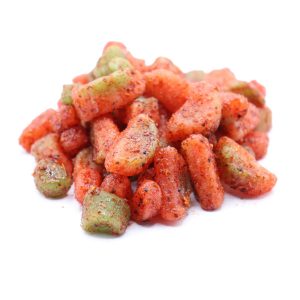 from deep red to pink. It can appear in a variety of colors, including orange, yellow, and white. Try our watermelon slices with chamoy. Our special blend of Chamoy, Tajin, and other spices is used to cover them. 
Learn more
Wild melons tasted dull and unpleasant, even though they held a lot of water. This hint shows that the desert inhabitants grew the first melon. Additional evidence for the its worth can be discovered in the seeds and paintings found in Pharaoh's tombs. 
These candies have a sweet, tangy, and savory flavor. You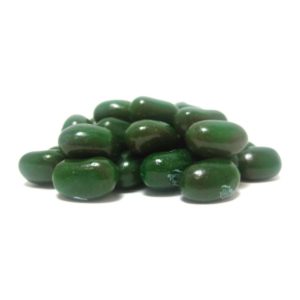 can place these Watermelon Jelly Belly beans in the center of your picnic tables! With just one bite of these tangy watermelon jelly beans, you'll be ready for the summer.
They may reach huge sizes when grown under the right conditions. Every year, competitions around the world reward awards for the largest one. The heaviest watermelon, according to the Guinness Book of World Records, weighs 262 pounds.
Facts 
You can eat the entire fruit

They come in many varieties

It can grow to be huge

They can prevent cancer
History 
We celebrate National Watermelon Day because the delicious, refreshing fruit deserves its day. The cultivation extends back to 2000 B.C., with the first watermelon harvest recorded in Egypt around 5,000 years ago. 
Mutations over a thousand years of cultivation have resulted in the sweet fruit we enjoy today. The seeds were sold to traders going through the Kalahari Desert via Africa's trading routes. Thus, its cultivation spread throughout Africa in this way.
The watermelon's progenitor originated in Africa, and it later spread to Mediterranean regions and other parts of Europe. Its cultivation became popular in China and the rest of Asia by the end of the ninth century.
In 1615, the word 'watermelon' was first recorded in the English dictionary. Watermelon comes in about 300 different types in the United States, ranging from red to white and in all shapes and sizes.
Spread the Joy
Spread the joy while you're having a good time! Visit a pick-your-own farm or purchase one at a local farmer's market. Then slice it up and share it with the rest of the neighborhood. Cut the fruit into wedges or make a fruit salad. 
Our watermelon jelly beans and bubblegums will satisfy your sweet tooth and make your taste senses dance for delight! Our luxurious small treats, hand-picked by our jelly bean geniuses, will take you on a delectable sensory voyage. 
Check out these other creative ways to spend the day!
Organize a seed-spitting competition.

Make a recipe from scratch. You can even share your personal favorites!

Make candies and beverages.

Make a dessert out of frozen watermelon.

Find out how to select a ripe watermelon.

Carve to completion. Like pumpkins, but a lot sweeter!

Our fat-free starch-based

Gummy Watermelon Rings

in 2

tone hues are a must-try for your watermelon day activities!

A playful, bite-sized gummy bear with juicy watermelon flavor? 
Our Light Blue Watermelon Gummy Bears will give you the soft, sweet gummy candy sensation.
Create a watermelon sculpture.

Play a game of Suikawari
We hope you are enlightened about our article: celebrate watermelon day. So, don't forget to celebrate with L'Orenta's  candies on this special day. Enjoy your candies!