Trail mix is the best kind of snack. Everyone knows nuts are superfoods and seeds are full of health benefits. This snack favorite is right at the meeting point of these incredibly healthy ingredients! Read along to learn more about trail mix: 
What is trail mix?
Trail mix is generally a snack mix composed of nuts and dried fruit, sometimes with added chocolate, seeds, cereal or even pretzels mixed in. It's the perfect snack for hiking (hence the name!), since you get a lot of healthy fats and energy in a small package. It's highly portable too, and since it's shelf stable, you can just throw it in your backpack and have it with you whenever you need a little pick-me-up. The nutrition facts will vary based on brand and the ingredients list.
Is trail mix good for you? 
Trail mix is kind of the perfect snack: hearty, varied, easy to bring on the go, and super satisfying. But is it actually good for you? The answer is that, as with most foods, that depends. Generally, trail mix is a wholesome and nutritious snack choice, but it's not always true. 
Considering that nuts and seeds make up the largest portion of most trail mixes, it becomes clear why it's such a popular choice. Nuts and seeds are common superfoods with a plethora of health benefits. Not only will these ingredients keep you satiated for longer,they also provide you with a good amount of precious healthy fats and protein. Each kind of nut and seed has their own specifications, like added minerals such as magnesium and zinc, but being a large part of most trail mix recipes, you know you're bound to get some health benefits. 
Another common addition to trail mix, dried fruits add a dosage of healthy sugars and vitamins, along with high amounts of fiber and antioxidants. Fiber is great for digestion and to keep you fuller longer, while the healthy sugars help in stabilizing blood sugars and providing you with a steadfast energy source.
What makes a good trail mix? 
Trail mix is generally a healthy and convenient addition to a balanced diet, but if health is your priority, the type of trail mix you select is important. For one, be sure to check the nutrition label carefully and go over the ingredients. When in doubt, look for products that contain nutrient-dense ingredients like heart-healthy nuts, seeds, and dried fruits. Variety is always a good indicator, as long as nuts, seeds and dried fruit make up the majority of the mix. 
And remember that enjoying your food is also part of living a healthy, balanced lifestyle! A small amount of chocolate, for example, adds flavor to an otherwise boring mix and doesn't take away from the health benefits – when consumed in moderation. 
Five of our Top-selling Trail Mixes 
Supreme Trail Mix 
Have a taste of our Supreme Trail Mix to satisfy all your sweet and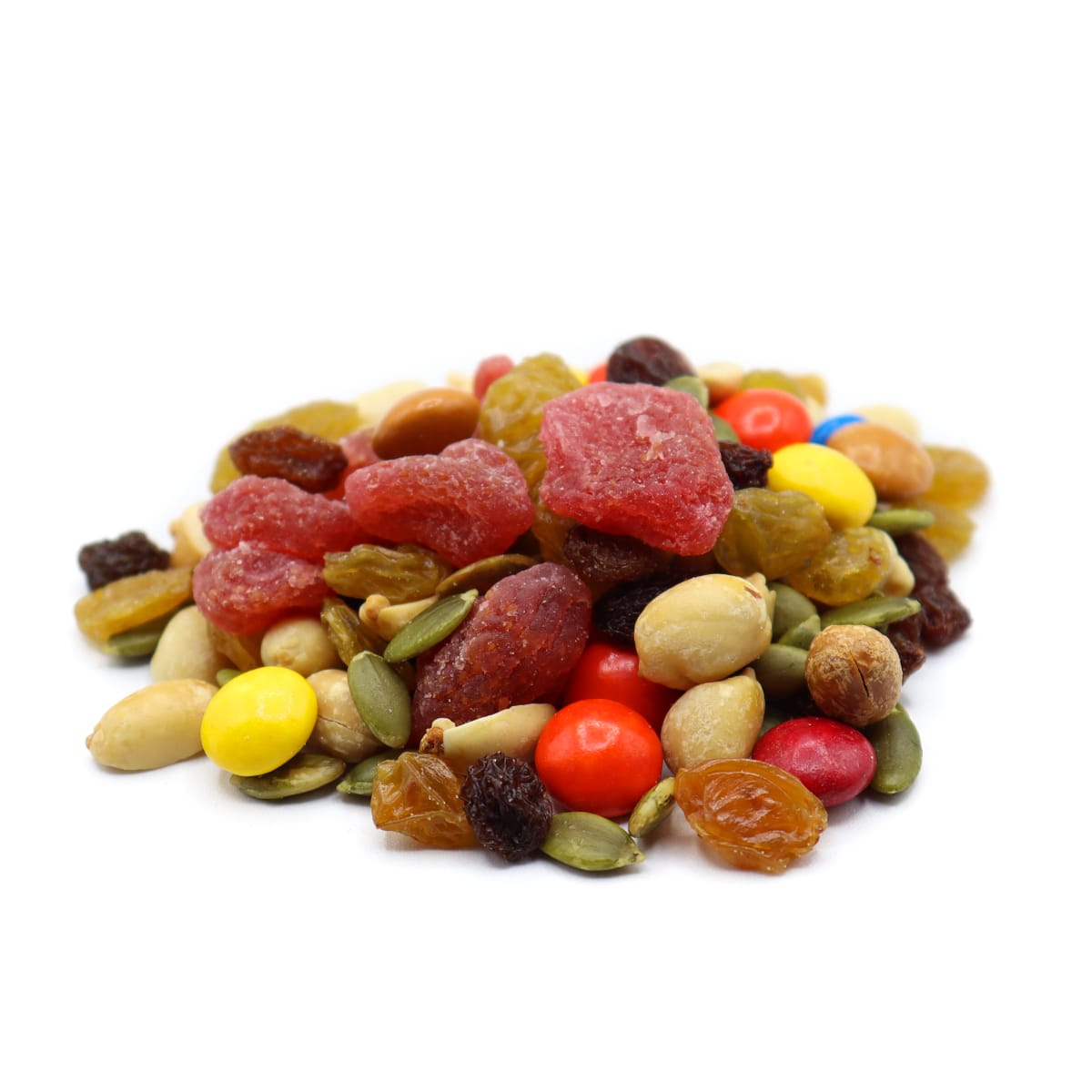 salty cravings. The snack mix is composed of golden raisins, seedless raisins, dried strawberries, pumpkin seeds, peanuts, and chocolate gems, the perfect pick-me-up to fuel your body throughout the day!
Island Life Trail Mix
The Island Life Trail Mix is an exciting and exotic combination of dark chocolate-covered espresso beans, walnuts, pumpkin seeds, raisins and dried pineapple pieces. A wonderful blend of tropical delights that are rich in immune-boosting antioxidants and bold in flavor. 
L'Orenta Chocolate Trailmix
Experience the best of both worlds with a snack mix that is both delicious and full of health benefits! L'Orenta's exclusive Chocolate Trail Mix combines banana chips, roasted salted peanuts and almonds, succulent raisins and chocolate gems.  
Explorer Trail Mix
Our Explorer Trail Mix is made up of a delectable combination of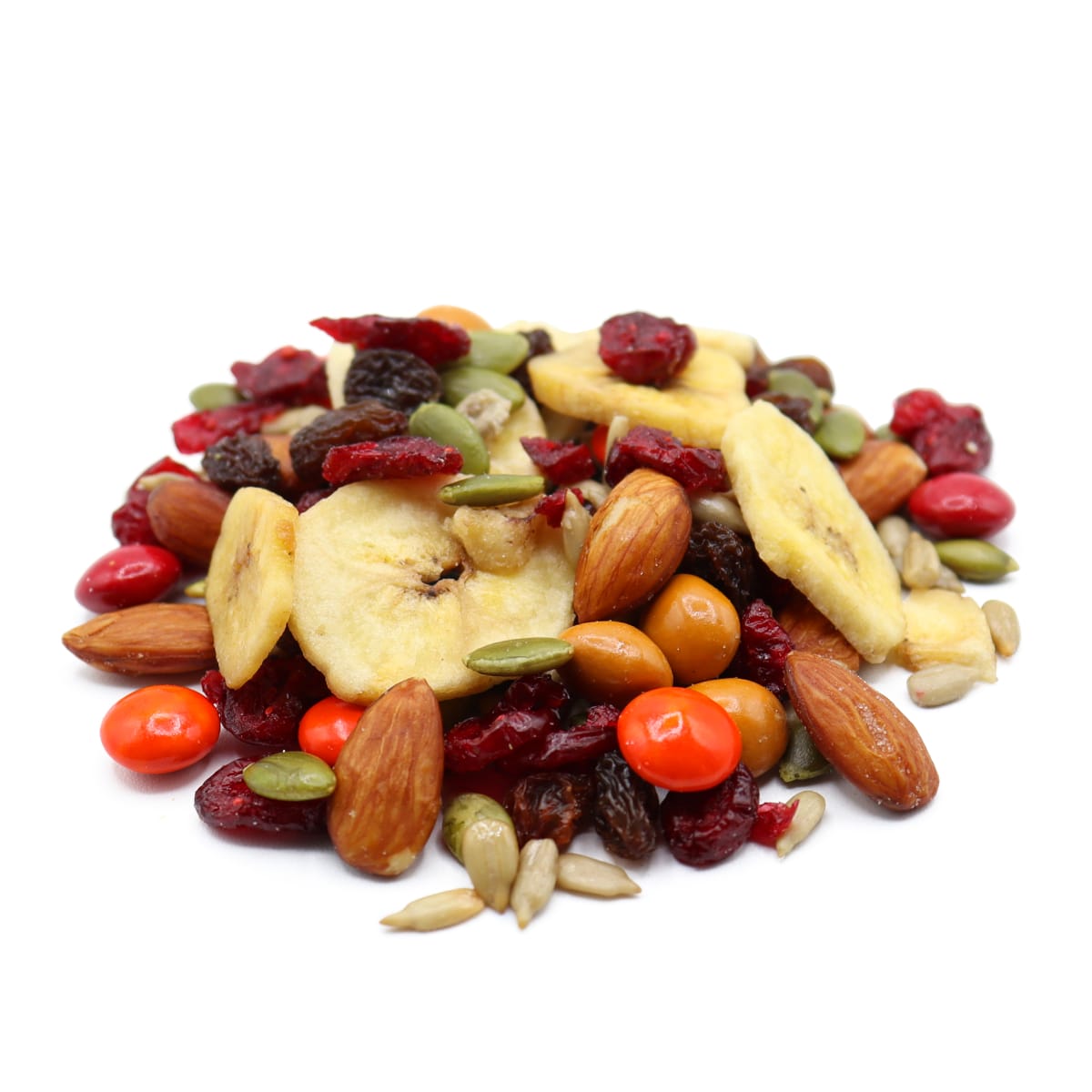 salted almonds, roasted sunflower seeds, seedless raisins, banana chips, dried cranberries, pumpkin seeds, and L'Orenta's chocolate gems. Guilt-free snacking at its best. A wholesome medley made with real ingredients!
Extreme Trail Mix
You'll love our Extreme Trail Mix, a healthy snack created to give you a boost when you need it most. Made with dried cranberries, seedless raisins, golden raisins, roasted almonds, diced pineapples, and chocolate gems. This is a great snack to consume before or after a workout to replenish energy levels and fuel your body!