Are you looking for a healthy yet spooky treat for Halloween? Look no further than gummy eyeballs! They have a foamy and gummy texture adding fun to any gathering. Imagine your guests staring at those gummy eyeballs on the table during Halloween. With a few ingredients, you will be on your way to making these ghoulish candies. This article is a guide to gummy eyeballs!
Why Make Gummy Eyeballs? 
It is very satisfying to make your own homemade gummy eyeball candy. Making your candies doesn't only allow you to bypass the questionable gummy ingredients at the store; it also lets you show your creativity and have fun. When you make your own Halloween eyeball gummy, you can control the shape and make them scary. 
Fruit Puree Or Juice 
To make the iris of your Halloween eyeball gummy, you will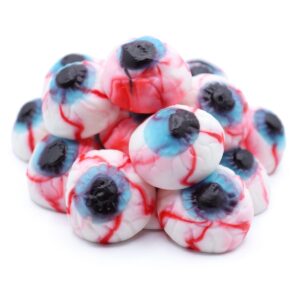 need a fruit puree or juice. It is best to choose a fruit juice that makes a nice creepy color for the eyeballs. If you're going to use fresh fruit puree for your candies, avoid pineapples and papayas. They have proteolytic enzymes, which won't allow the gelatin to gel properly. 
The best choice is to use fruit juice. Fruit juice bought from stores is pasteurized, which means that the proteolytic enzymes will allow the gelatin to gel. So, if you want to make the irises of your gummy eyeball candy yellow, you can use pineapple store-bought juice. It is important to dilute your puree mixture with some water or juice, to reduce the thickness. 
Why Is It Important to Use a Healthy Gelatin? 
There is a wide variety of gelatin for your gummy eyeballs. However, some are healthier than others. Gelatin is excellent for your hair, nails, and skin because they are a great source of collagen and protein. The best gelatin is those derived from grass-fed cows. 
Choosing the Best Coconut Milk 
Due to the gelatin that acts as a gel solidifier, you don't need to add thickeners to your coconut milk. This makes it an excellent opportunity to use your homemade coconut milk. However, if you don't want to make your coconut milk, look for those with minimal ingredients. Minimal ingredients mean that your selected coconut milk does not have extra gums or sweeteners. 
Choosing Your Sweeteners 
If you're worried about how much sweetener you need to use in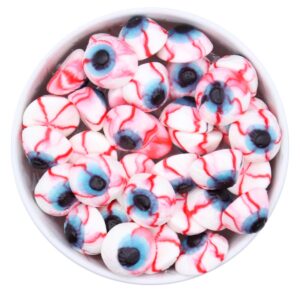 your gummy eyeball, a guide to gummy eyeballs is what you need. The sweetener you choose for your gummy eyeballs will significantly affect the taste. However, it is best to select non-refined sweeteners such as maple syrup and honey. If you are going for a lower calorie gummy eyeball candy, stevia or monk fruit sweetener will serve just fine. If sugar is your preferred sweetener, dissolve it in other ingredients as you heat them. 
You may choose not to add any sweetener to the irises and opt to use coconut for the eyeballs. You can add more sweetener to your candy if you have a sweet tooth. Controlling the sweetener level in your candy is one of the advantages of making them at home. 
How to Make Gummy Eyeballs 
Making gummy eyeballs are pretty straightforward and won't take more than an hour and thirty-five minutes of your time. Here are some ingredients you will need:
Ingredients
Twelve semi-sweet chocolate chips 
Cooking spray. Preferably a non-stick cooking spray 
Five drops of blue gel coloring 
Two one-quarter ounce powdered unflavored gelatin 
Three-quarter cup of coconut milk 
One tablespoon of confectioners sugar 
Three drops of red gel coloring 
Procedure 
Step 1 
For your mold, you will have to obtain a carton of eggs with twelve egg homes. You will also need one eyedropper and one small tip paintbrush. 
Step 2 
Bring out your small mixing bowl and mix in one packet of gelatin with one-quarter cold water. Mix until they are combined and free of lumps. Then, heat half a cup of water in the microwave for about one minute until the water is hot. 
Then, pour the hot water into the gelatin and whisk until the gelatin completely dissolves. Add your blue coloring and stir with the dissolved gelatin. Proceed to use your eyedropper to drop three or four gelatin around the chocolate chip. This would form the blue eyes. Finally, place the egg holder into your refrigerator for thirty minutes. The iris should set into the chocolate chip during that time. 
Step 3 
The third step involves mixing the remaining gelatin with one-quarter cup of cold coconut milk. Then, add your sugar and mix until the mixture does not have any lumps. Put the remaining cup of coconut milk in the microwave and heat for one minute. After one minute, take the coconut milk and pour it into the cool gelatin and whisk until the gelatin completely dissolves. Finally, let the mixture cool for about five minutes. This would ensure that the iris and pupil don't melt. 
Step 4
Put two tablespoons of the coconut milk mixture into each iris. Ensure that you take maximum precautions so the eyes come out great and realistic. Ensure that you scoop till you cover the chocolate. Then, put back the egg holder into the fridge for thirty minutes. 
Step 5
Using a small bowl, combine the vodka and your red food coloring. Then, use the small tipped paintbrush and dip it into the mix. Carefully paint the veins into the eyeball by drawing curved lines from the bottom of each gummy. From the bottom of the gummy, trace the veins carefully to the iris to allow the veins to dry for two minutes. Then, proceed to serve your spooky yet delicious gummy eyeball. 
Other Halloween Candies You Should Know 
Apart from gummy eyeballs, other Halloween-based candies make great treats for Halloween. Here are some other Halloween candies you may like. 
1. Halloween Worms 
Want to spook your visitors during Halloween? Nothing gets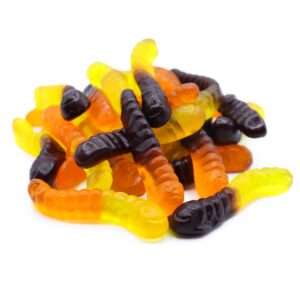 scarier than a bowl of Halloween worms!
2. Gummy Pumpkin
They are more sweet than spooky. Gummy pumpkins make for the perfect Halloween treat. You can get some here.
3. Gummy Halloween Sours 
Gummy Halloween Sours are soft and make for the perfect Halloween candy. Treat your kids to these sour candies. 
4. Gummy Hairy Spiders 
Have you ever seen candy shaped like spiders? Gummy hairy spiders are an enjoyable treat for arachnid enthusiasts. 
5. Caramel Candy Corn 
Caramel candy corn is the perfect combination of traditional candy corn with caramel flavor. 
6. Pumpkin Pie Almonds 
Pumpkin pie almonds are the perfect treat for fall. Alternatively, you can also make them as treats for Halloween. 
Conclusion 
Gummy eyeballs don't just stop at being spooky; they are even tastier than the fright they induce in your guests. They aren't difficult to make, and when made at home, gummy eyeballs are a fun treat. This guide to gummy eyeballs should make your Halloween even more fun!