A Guide To Dark Chocolate Almonds | L'Orenta Nuts
Dark chocolate is one of the most popular treats you'll ever find. Some enjoy it in hot drinks, while others pair it with ice cream. Unlike every other type of chocolate, dark chocolate will always stand tall due to the many benefits that come with it. This article is a guide to dark chocolate almonds! It explains its many benefits and other essential information consumers should know. 
Benefits of Dark Chocolate
They have many benefits besides the great taste and the unique flavor. Here are some of the benefits:
1. Contains Fiber
Some sweet treats do not contain fiber, but dark chocolate is unique. It contains a very high level of fiber. For example, if you consume an ounce, you will be consuming up to 4 grams of fiber.
2. Skin Protection
It also contains antioxidants that help the blood flow better through your skin. As blood flows through your skin, your skin stays protected from any form of sun damage. In addition, since they are high in flavanol, they can protect the skin from UV rays. 
3. Improve Your Mood
Some individuals commented that they felt better after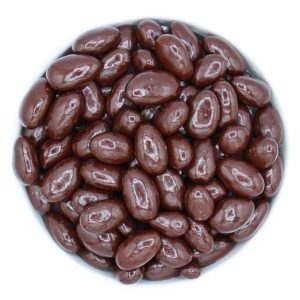 consuming dark chocolate. Drinking it can give you a pleasant feeling, and that's because it contains a compound known as polyphenolic. Polyphenolic helps reduce the cortisol (stress hormones) in the body. So if you are feeling down and would love to improve your mood, consuming dark chocolate would be a great idea. 
4. Home Of Essential Minerals
There are so many essential minerals in dark chocolate, and these minerals are good for your health. These minerals are phosphorus, zinc, copper, iron, and zinc. When it comes to the immunity aspect of your body, these minerals play a vital role. An excellent example of a mineral that helps your body's immunity is zinc. There is also phosphorus which helps with keeping your teeth and bones healthy. Dark chocolate will also help you sleep better since it also contains magnesium. A guide to dark chocolate almonds encourages consumption to help consumers benefit from these essential minerals.
5. Cardiovascular Health Improvement
It helps to improve your cardiovascular health. It also lowers blood pressure and ensures proper blood flow in the body. Since we all know how vital it is to keep our cardiovascular health healthy, you can use dark chocolate today to enjoy such benefits. 
6. Anti-inflammatory 
Once in a while, our body does experience various forms of inflammation due to germ and bacteria effects. Various forms of chronic inflammation could cause severe health conditions that could damage essential cells and tissues in the body. It contains anti-inflammatory properties that will help you solve any inflammation issue in your body.
7. Improves Brain Functions
Dark chocolates are also great in improving the brain's functions, preventing brain conditions such as Parkinson's and Alzheimer's diseases. Research carried out by experts in 2018 shows that flavanol in dark chocolate helps in improving neuroplasticity which plays a significant role in organizing your brain activities. 
Does Dark Chocolate Have Dairy?
Other forms of chocolate have dairy. But dark chocolate is considered a non-dairy product, making it an excellent option for individuals with dairy sensitivity. However, there are cases where dairy products can be introduced during the manufacturing process. So if you are sensitive to dairy products, you should check the dark chocolate's list of ingredients to ensure it doesn't contain the dairy product. 
Carbs In Dark Chocolate
Dark chocolate contains carbs, although these carbs are in the form of sugar. At 70% to 85% cacao, a single ounce has 170 calories and approximately a third of those calories originate from carbohydrates.
Final Thoughts
Undeniably, we have presented you with a guide to dark chocolate almonds!  How have you benefited? We hope you now have a better understanding of the benefits you can gain from dark chocolate. If you are looking for where you can get some of the best dark chocolate to enjoy some of these benefits, visit L'Orenta Gourmets Nut and Goodies today.