7 Baking Ingredients | L'Orenta Nuts
One of the greatest satisfactions we get in life, is to enjoy the things we did ourselves. Cooking is not only a joyful experience to share with family or friends, it is very educational too. Here are 7 baking ingredients. 
You learn a lot about the ingredients, the seasonality of the products, the process to preserve their taste and freshness, how to create different tastes and the best part is, you get to eat what you cooked! 
Today we want to inspire you to cook more with delicious and nutritional ingredients that you can use in different recipes. 
What can I bake with almonds? 
No matter if they are raw, salted, roasted or sliced, almonds are a great baking ingredient and an amazing nut to snack. 
Our favorite cakes to bake with sliced blanched almonds are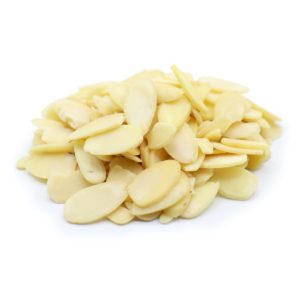 muffins and cupcakes! It is the perfect addition to these sweet cakes and their size makes it easy to add to the recipe. This way, you can have the pleasure of a muffin for breakfast, with the health benefits of almonds. 
Indeed, almonds are a source of healthy fat, fiber and plant-protein. Because of their high nutrient content, they help blood sugar regulation, fight the cravings, lower the cholesterol and the risks of developing several diseases such as cancer. 
Also, if you like whole raw natural almonds, we recommend you to add them to a main dish like a green salad with arugula, tomatoes, seedless raisins and a vinaigrette. 
You can also cook a delicious stir fry almond chicken: mix your chicken, sauce, a grab of raw almonds, some vegetables (carrots, peas, asparagus) et voilà! A tasty and healthy dinner in about 30 minutes. 
Raw almonds are also very good to mix with your bowl of cereal or granola for breakfast, or in a cup of greek yogurt. 
Which are the best recipes with pumpkin seeds? 
Implementing seeds when you cook is an interesting way to bring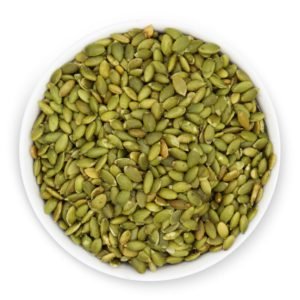 an additional taste to the meal and using a superfood. Pumpkin seed are a source of phosphorus, monounsaturated fats and omega-6 fats. They also contain phytosterols, a plant component that helps lower blood cholesterol. Because they provide a wide range of nutrients, they help boosting the immune system but also fight diseases such as breast cancer and urinary disorders. 
Add your roasted salted pumpkin seeds to your homemade avocado hummus, a black bean soup or your cucumber salad. If you want to mix them with other superfood seeds, you can add them to your chia seeds quinoa bars or your chocolate cookies. 
Can I use natural hazelnuts to bake? 
Of course! Hazelnuts are a delicious and nutritious snack that you can eat as is, but it is also an amazing ingredient if you like to bake cakes. 
You can add your natural hazelnuts to your tarts, cookies, cakes, biscottis and muffins. Use it with other sugary ingredients or dedicate it to a whole recipe and bake a hazelnut cake. 
It is also a key component if you want to cook your own pesto! 
Nuts are good for your digestive system, limit weight gain, fight early aging signs, lower cholesterol and reducing inflammation overall. 
How to bake sweets with pecans? 
Enjoy the fact that you can use different kinds of pecans for your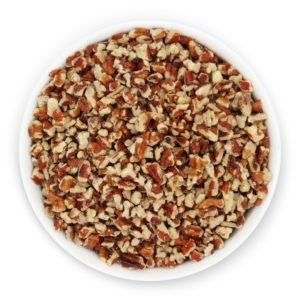 bakery creations. You can opt for pecan medium pieces to pour into your salad, a dish of salmon with lemon glaze, or even a butter pecan chicken.
But you can also choose to bake desserts and for that, use pecan midget pieces for your pancakes, turtle cookies or just an easy pecan pie. 
Pecans are helpful for arthritis relief, diabetes management and your heart health.
What is the best walnut baking recipe? 
For all the gourmets out there, if there is one recipe you have to try with walnut chandler halves and pieces is a banana walnut bread. It is the perfect combination of a smooth bread and the little crunch of the walnuts. Kids and parents will love it, it goes for both breakfast or snack, with a glass of orange juice or a cup of coffee.  
You can even turn your walnuts into butter and use it on a slice of bread, or to make walnut taco meat! 
Walnuts can not be forgotten of your pantry because they bring a lot of benefits to your diet. They are full of antioxidants and Omegas-3 to help gut health, reduce chronic inflammation, and lower the risk of diabetes of type 2. Because they also support brain function, they are good for both kids and adults to focus on work and improve memory. 
Use your imagination and don't forget that you can use these ingredients for both sweet and salty recipes. You can spice up a classic recipe or add some crunch to a meal. Tell us which is your favorite recipe and show us the results!