6 Different Raisins | L'Orenta Nuts
Raisins are one of the tastiest and versatile fruits to add to your diet. 
Did you even know that there are actually six different types of raisins? 
The black raisins are the most common type used in households. They are drawn from grapes and the color gets darker when it becomes drier. Their size ranges from 1.5 cm to 2.5 cm, they are really chewy and fleshy to eat.

The black currants are one of the types of what is called kismis because of their origin.Their taste is not too sweet, they have a tart-like touch and are pretty small.

The sultanas, or golden raisins, are lighter in color and small in size as compared to the black raisins. 

Red raisins are the most delicious types of raisins that come from red grapes. They are extracted from flame seedless red grapes. Large in size, they are plumpy, and dark colored.  

Green raisins are produced across all middle east and central Asia. They are thin, long in size and usually dark green. They are super juicy, tender, and filled with fiber nutrients. 

Munakka are basically dried grapes but bigger in size when compared to kishmish. It has a seed inside the fruit. They are pulpier than kismis and are brown in color.
Health benefits of Raisins
Like many fruits, raisins are extremely beneficial to our health for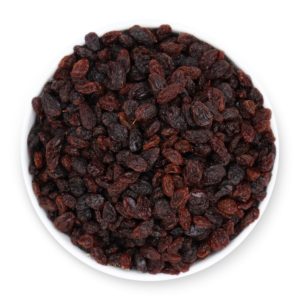 their concentration in potassium, magnesium and various micronutrients. It is interesting to mix the different types because each brings something special to your body:
Black raisins prevent hair loss, purify and cleanse the intestine and improve skin health.

Black currants soothe a sore throat, they boost the immune system and lower blood pressure.

Sultanas help to control blood sugar, decrease inflammation and aid digestion.

Red raisins lower the risk of diabetes, they are good for dental health and improve eyesight.

Green raisins are particularly good for your heart and they prevent anemia. 

Munnaka can cure constipation, strengthen the bones and even aid people who want to gain weight. 
The golden raisins are the most recommended ones for overall health goodness. They contain fiber, potassium, iron, flavonoids, and other essential minerals.
Dry raisins provide the same health benefits as fresh ones. They also help prevent too much acidity and they fight against cancer cells. Finally, the iron they contain is not only good for your cardiovascular system but it also helps improve the quality of the sleep and relaxes the body. 
Drying the raisins
There exist three types of techniques to dry the raisins: sun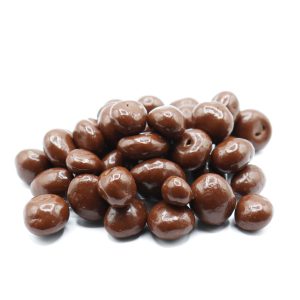 drying, shade drying and mechanical drying. Sun drying is the most inexpensive and slow process, but it brings a lot of constraints. The most common one used is mechanical drying because the environment is safer and there are more controlled steps for the best result. 
Now that you know everything about raisins and dried raisins, it is time to talk about the most important aspect: how to eat them!
Our goal is to satisfy all our clients tastes and we work hard to offer delicious, nutritious and different recipes. 
The first thing you can choose is to enjoy your dried raisins simply by eating them raw! For that you have a chance to choose from the classic jumbo golden and seedless raisins.
Second of all, you can buy different kinds of raw dried raisins and mix them in different preparations! Our favorites are the trail mixes (great to add other dried fruits), banana oatmeal muffins, a green and carrot salad or even a caramelized onions chicken meal!
L'Orenta Raisins
We always prepare some extra special recipes for our sweet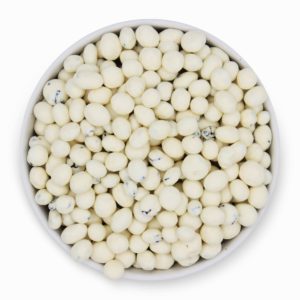 lovers: we created the milk chocolate raisins and the yogurt covered raisins. You will look for an excuse to snack with these two ! Milk chocolate raisins are perfect for kids and the yogurts one do an amazing pre-workout snack! 
To keep your raisins tasty, prefer a cool storage and once your package has been opened, put them in a sealed container and refrigerated. They will keep their flavor, color, and nutritive value that way. In case they become dry due to improper storage, just rinse them in tap water to dissolve the sugar crystals and restore the moisture.
For the yogurt and chocolate milk raisins, do not put them in the refrigerator, yogurt and chocolate absorbs other odors and discolor the raisins. The taste is the same but it doesn't look yummy! Keep them in a dry and cool place and place them in an air-tight container away from sunlight or direct artificial light.