5 Health Benefits of Roasted & Salted Almonds | L'Orenta Nuts
Nuts are an essential part of a healthy diet because they play a significant role in our bodies. Roasted and salted Almonds, for instance, are simple nuts that are highly nutritious. If you're looking for the ideal type of snack that will boost your body's nutrients, search no more. This article will look at the 5 health benefits of roasted & salted Almonds. 
Rest assured that roasted and salted almonds will serve as the perfect snack to fit into that nutritious role. There are so many benefits you can gain from roasted and salted almonds. 
Why Are Almonds Roasted and Salted?
One of the major reasons for roasting and salting almonds is to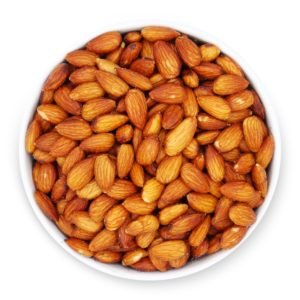 give them an excellent taste. The crunchy texture and pleasant aroma are possible because of roasting and salting. Roasting is the best and most preferable method to cook almonds. L'orenta Gourmet Nuts and Goodies utilize this method expertly. It has made them one of the best roasted and salted Almonds you'll find. 
Where Can I Get Roasted and Salted Almonds That Are Properly Prepared?
You can get the best roasted and salted Almonds at L'orenta Gourmet Nuts and Goodies. We have the freshest and crunchiest Roasted almonds with the right quantity of salt for the best flavor. 
Benefits Of Roasted And Salted Almonds
Roasted and salted almonds are not only tasty, but they also have a variety of health benefits. You might be familiar with some of them. But here are the top 5 health benefits you can gain from the consumption of roasted and salted almonds:
Almonds Have Massive Amounts of Nutrients
Consuming roasted and salted almonds is excellent for the body because it consists of lots of nutrients. Some of the essential nutrients they contain include: 
They also have a high percentage of phytic acid that contains some specific minerals. This phytic acid, however, prevents the minerals from being absorbable. 
2. Almonds Are Antioxidant Carriers
Almonds are some of the best antioxidant carriers around. One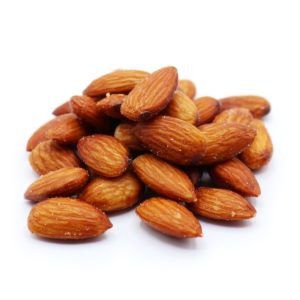 of the areas where these antioxidants is the brown skin of the almond. Since antioxidants fight against oxidative stress, you can be sure that Almonds will play an essential role in your wellbeing. Taking up to 3 ounces of Almonds daily for over four weeks can help reduce oxidative stress biomarkers.
3. Almonds Contains High Level of Vitamin E
Vitamin E is a fat-soluble antioxidant. It is formed in the body through cell membranes. Almonds are one of the highest sources of vitamin E. It is why consuming roasted and salted almonds will increase your intake of vitamin E. Interestingly, a high level of vitamin E in the body helps reduce the risk of heart diseases. 
4. Almonds Help Control Blood Sugar Level and High Blood Pressure In The Body
One interesting fact about almonds is that they are high in fiber,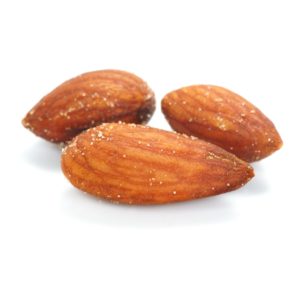 protein, and healthy fat. Since they are also low in carbs, they are the perfect choice for people who have diabetes. Another essential mineral that almonds contain is magnesium. Magnesium is a mineral that plays a critical role in various body functions in the body. 
One of these roles is controlling the blood sugar level in the body. A certain percentage of individuals with type 2 diabetes result from a lack of magnesium in the body. This means that food with high magnesium content can prevent type 2 diabetes. A high magnesium concentration in the body can also prevent other metabolic syndromes. 
Magnesium is great at reducing blood pressure in the body. High blood pressure is one of the major causes of kidney failure and heart failure. Studies have shown that increasing magnesium intake will help drop blood pressure. It will reduce the risk of heart and kidney ailments.
5. Almonds Help With Weight Loss
One of the major reasons for excessive fat in the body is the accumulation of undigested substances. Almonds excel best in the area of digestion. The body does not absorb a small percent of the calories in almonds. It is why consuming Almonds can Increase body metabolism a little. The satiating attributes of almonds make them very effective in weight loss. Although Almonds contain healthy fat, they remain one of the best means of losing bodyweight. However, just because they contain body fat doesn't make them effective in adding fat to your body.
Final Thoughts 
Roasted and Salted Almonds contain lots of minerals that have significant health benefits. There are several benefits; however, those mentioned are the significant 5 health benefits of roasted and salted Almonds. 
Since you know the benefits of roasted and salted almonds, you can get the best roasted and salted Almonds from us today. Our specially roasted and salted almonds will help boost your health while giving you the maximum satisfaction that you deserve.