The 5 Health Benefits of Goji Berries l L'Orenta Nuts
The goji berry is native to Asia. It is utilized by Asian people for over 2,000 years as a medicinal herb and food supplement.  Recently it has become a favorite food for health-conscious people.  These benefits range from immune system support to improved glucose regulation. From the alleviation of depression and anxiety, to improved skin health! Here are 5 health benefits of Goji Berries.
What makes goji berries the new Superfood?
Goji berries, contain exceptional nutrient content:
High in protein, dietary fiber, and linoleic acid, an omega-6 fatty acid (in the seeds)
11 essential and 22 trace minerals
Extremely high in antioxidants
High in iron
18 amino acids with total content of 11 g per 100 g of dried fruit, an exceptional amino acid concentration
100g of dried fruit contains:
Potassium, 1,132 mg, 24% of the Recommended Dietary Allowance
Iron, 9 mg (100% of the Dietary Reference Intake (DRI, US Institute of Medicine)
Copper, 2 mg (100% DRI)
Zinc, 2 mg (18% DRI)
Riboflavin (vitamin B2), 1.3 mg (100% DRI)
Thus, goji berries are a nutrient dense food, so they're an excellent addition to a balanced diet.
5 Health Benefits of Goji Berries
There are many reasons to consume goji berries. Some are that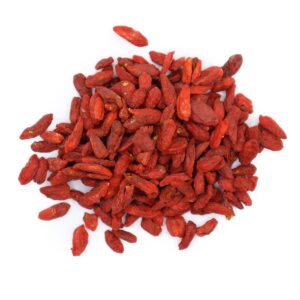 they provide a significant number of health benefits because they are especially rich in polysaccharides, beta-carotene, and zeaxanthin.
Polysaccharides are an essential source of dietary fiber, and scientific studies show that these polysaccharides improve immune function, increase antioxidant activity in the body.
Beta-carotene,is vital for eye health, bone health, skin health, and cell development. The amount of beta-carotene in goji berries is among the highest of all edible plants.
Zeaxanthin plays a crucial role in supporting the immune system.
Protection for the Eyes
Goji berries can help vision because they contain high levels of healthy antioxidants, especially zeaxanthin.
Research indicates that zeaxanthin can prevent macular degeneration. This is a progressive vision impairment that occurs when the central part of the retina deteriorates.
Another study reported that goji berries protect the retina from the ganglion cells responsible for glaucoma. This is a condition that can lead to vision loss.
These same antioxidants can also stop damage from:
UV light

free radicals

oxidative stress.
A study reported in the journal Drug Design, Development and Therapy shows goji berries protect the retina from the ganglion cells responsible for glaucoma a condition that can lead to vision loss.
Immune System Support
Goji berries contain healthy antioxidants. Antioxidants are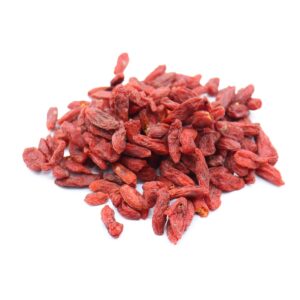 known for their immune-boosting qualities and their ability to fight harmful free radicals and inflammation.
Goji berries also contain large amounts of vitamins A and C,, which are vital for building immunity and preventing illnesses, ranging from the common cold to cancer.
Healthy Skin
Goji berries contain beta-carotene. This is an essential plant phytochemical. Beta-carotene promotes healthy skin.  Beta-carotene is an ingredient used in skin creams to:
improve skin health

reduce skin irritation

manage the effects of the sun

manage the impact of aging
Stabilizes Blood Glucose Levels
Research shows that goji berries balance insulin and glucose levels in the blood. The same study linked goji berries to increased HDL levels in people with type 2 diabetes. This is linked to improved cholesterol control.
Improves Depression, Anxiety and Sleep patterns
Goji berries are rich in B and C vitamins and also contain manganese and fiber. All of these nutrients increase energy levels and enhance positivity.
These berries have been used in traditional Chinese medicine to fight depression and other anxiety and mood disorders.
In a recent study, healthy adult participants consumed 120 milliliters of goji berry juice daily or a placebo drink for 14 days.
First, They completed questionnaires to record their feelings of wellbeing, neurological and psychological health, musculoskeletal symptoms, and digestive and cardiovascular complaints, as well as any adverse effects of the juice each day.
Second, the group given the goji berry juice reported improved energy. They also had the ability to focus, enhanced athletic performance and a feeling of calmness and contentment by day 15.
Third, the study also showed improved quality of sleep in those who consumed the goji berry juice. None experienced negative effects related to drinking the juice.
How do you include  goji berries into your diet?
In order to enjoy the 5 health benefits of goji berries, you can buy these goji berries at L'Orenta Nuts. Add goji berries to:
You can also make tea out of them by pouring boiling water over them. Add them to chrysanthemum tea if you're having problems with your eyes.
It is also easy to go out and eat them by the handful as a snack, or with other dried fruit.
Goji berries are available fresh or dried and in trail mixes, superfood mixes, or as a juice.