4 Chocolate Covered Cashews | L'Orenta Nuts
4 Chocolate-Covered Cashews
Chocolate-covered cashews are flavonoid-filled yummies that boost the vascular system's function. These yummies also have vitamins, magnesium, minerals like iron, low sodium, and cholesterol.
Cashews (Anacardium Occidentale) originate from the Sumac family. Its seeds are popularly known as cashew nuts, even though the seeds are not entirely recognized as nuts. 
History of Cashews and Chocolate Covered Cashews
Cashew originates from the Portuguese name for the fruit, 'caju.' Since chocolates are a good blend with some nuts, this led to the experimentation on cashew nuts. A good result prompts the formation of chocolate-covered cashews. National Chocolate Covered Cashew Day is celebrated on April 21.
How Are Cashews Grown?
Cashews fully form during the dry season, with a growth rate of 5 years. However, cashews best grow in a warm climate. Plant your cashews on sandy-loam soil instead of clay soil for the best result.
Cashew trees need complete exposure to the sun for a minimum of six (6) hours to produce bountiful cashew seeds. Therefore, water the plant more during the dry season but avoid overwatering.
It is pertinent to use a phosphorus-rich fertilizer to aid your cashew plant growth is pertinent. In addition, use an excellent pesticide to hinder pests from destroying your cashew plant. The swollen stem is a common sign of stem borer presence in cashew trees.
Facts About Cashews
Cashew trees grow best in dry/wet tropics.

The cashew apple's red, pink, or yellow color signifies harvest. Another sign is the dark gray color of its nut.

The dry season is the best time to harvest cashew.

You can eat cashew by steaming, boiling, or roasting. 

The nuts have high monounsaturated fat.

Cashews have oxalates which are harmful to people with gallbladder challenges or kidney stones.

Some industrial products like brake liners and paints have cashew nuts.

Cashew nut shells are a vital ingredient for arms production, waterproofing, and lubricants.
4 Chocolate Covered Cashews
There are several delicious chocolate-covered cashews in production today, which is a delight for lovers of this snack. They are organic, making them perfect for a good combination of a sweet and healthy snack. Here are four (4) of them;
L'Orenta White Chocolate Coconut Pineapple Cashew
L'Orenta white chocolate coconut-pineapple cashew is a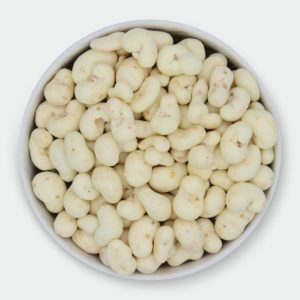 meltable, peanut-free, sweet snack. This chocolate-covered cashew is sure to give you a good feeling with its pineapple and coconut flavor. It is a perfect choice for hangouts as it creates excellent bonding. Chewing on these cashews is sure to satisfy your cravings. Make your order here.
L'Orenta White Chocolate Toffee Cashews
This is another product of L'Orenta Nuts with white chocolate and toffee taste. One bite of these glossy-looking chocolate toffee cashews is sure to make you yearn for more. This snack is a perfect blend of chocolate and toffee. Create a new excitement. Order here.
L'Orenta Caramelized Chocolate and Sea Salt Cashews
The caramel adds to the excellent taste this chocolate-covered cashew offers. It contains various vitamins, a perfect choice to enjoy the delicious taste. Every bite is worth it, and each nut has an attractive gloss that gives a neat coating. Order this yummy goodness here.
L'Orenta Milk Chocolate Cashews
L'Orenta Milk Chocolate Cashews have glossy roasted cashews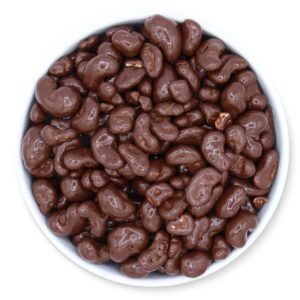 with sweet milk chocolate. 
It contains a good level of antioxidants that keeps the brain and heart in a good state. The sweet milk chocolate adds an extra sweet flavor to make this snack more pleasurable. The glossy look this chocolate-covered cashew has will leave a lasting memory on your taste buds. Have a taste of these delicious roasted cashews by ordering here.
Conclusion
Chocolate-covered cashews are a fantastic choice for parties because they have a rich, delicious taste and wide acceptance. They are also excellent as gifts. However, it is essential to check for the healthiest ones as they are mostly the top preference.